Website Overview – Summer 1
Year 2 – Wriggle and Crawl
Topic – Wriggle and Crawl – We are learning all about Minibeasts and flowers this half term. We hope to go to Rosehill Park as soon as the weather gets better in search of minibeasts to link to our classroom learning. We will be learning all about what makes an insect, different parts of an insect, where they live, their life cycles and many more exciting things.
Literacy
Poems – We are emerging ourselves in language to create rhyming poems with exciting uses of alliteration.
Story – We will be studying 'The Bad Tempered Ladybird' by Eric Carle and sequencing the story, retelling the story and writing our own minibeast story.
Non-Chronological Report – We will be writing a report all about different minibeasts, their habitats, their diet etc.
Numeracy – Addition and Subtraction – We will be begin learning how to solve addition and subtraction by using the column written method. This will give the children another method of solving problems.
Money – We will recognise coins, adding different amounts and also giving change. The children will use toy money to help them and this will continue all half term through our 'Flower Shop' Role Play provision.
Number Facts – The children will be recalling their number fact knowledge of doubles, halves, number bonds and linking them to 20 and 100.
Fractions – We will be finding fractions of different shapes, amounts, measures and also look at basic equivalent fractions.
The children have enjoyed making minibeasts over the Easter Holidays with their grown-ups.
Class 6 Visit to the Local Florists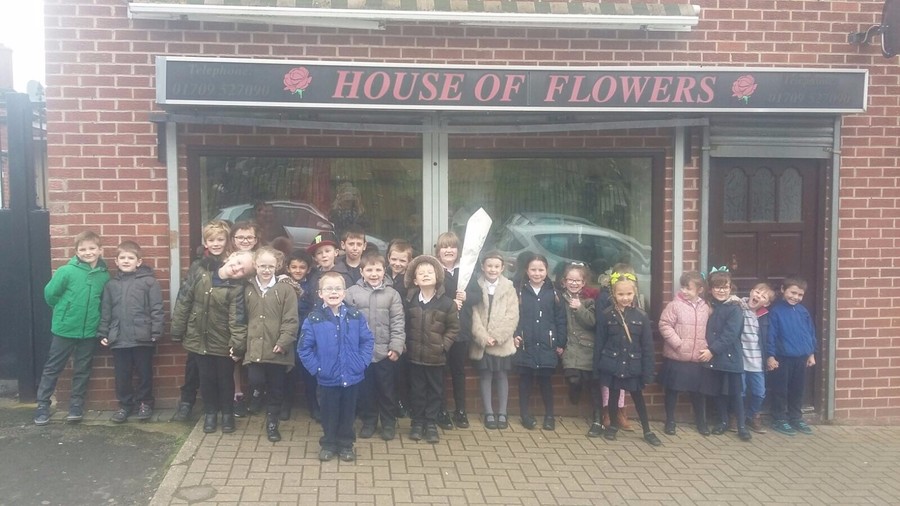 Towers,Tunnels and Turrets
Our topic next half term is 'Towers, Tunnels and Turrets'. We will be visiting Conisbrough Castle to learn all about the features of castles and learn about the history. Did you know Conisbrough Castle has a Royal connection? We will be building castles and tunnels using box modelling and even sugar cubes.
During our English sessions, we will be looking at descriptive language, non-fiction reports and narratives. During our Maths sessions, we will be learning about money and shape. Our targets for next half term are to learn and recite simple poems, to identify different sentences, to recall number facts to 20 and to write letters of the correct size.
Dave the Elf is back in Class 6 keeping an eye on all of the children for Santa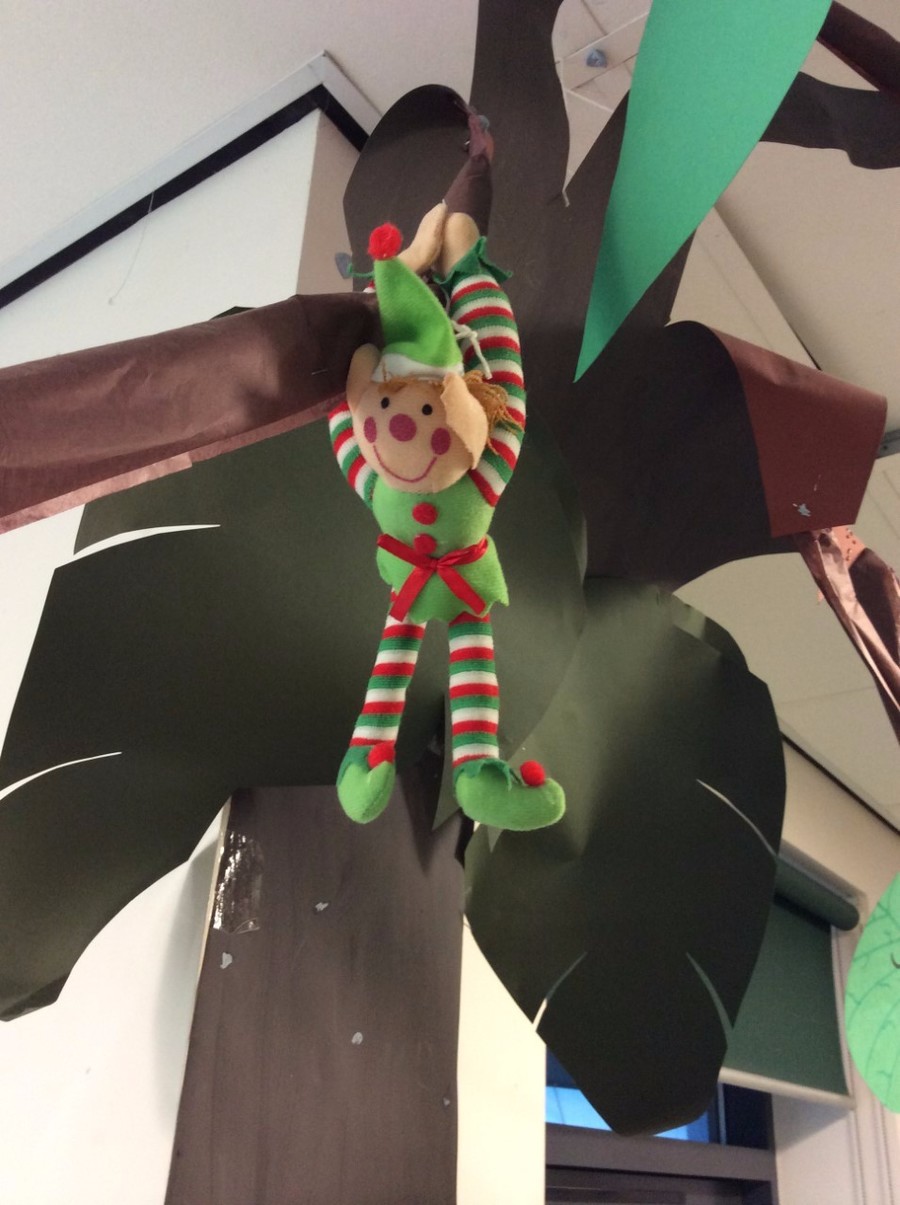 Year Two – Beat Band Boogie!
This half term our new topic is called 'Beat Band Boogie!', which is very music and science based. We will investigate how sound is made and look at a range of instruments to see how they are played. We will also be looking into different ways to make music e.g. using pots and pans or nature walks.
During our Literacy sessions, we will be focusing on Poems and Nursery Rhymes to look at the pattern of language and the pulse/beat of rhymes. We are particularly focusing on 'The Grand Old Duke of York' and we will produce group news reports interviewing the Duke and his soldiers. Further literacy sessions will then go onto narrative writing, where Class 5 will learn about 'Peter and the Wolf' and Class 6 'The Steadfast Tin Soldier'.
Our maths sessions will introduce multiplication and division, where we will learn new methods of drawing arrays and using sharing circles. The Maths Calculation Policy can be found on our website, if you wish to look at this in more detail.
Beachcombers
Welcome back to school Year 2!!
This half term our topic is Beachcombers and we will be visiting Cleethorpes on Tuesday 13th September. The purpose of the visit is to experience the seaside – eat ice cream, ride on a donkey and even visit the steam train.
In English we will write recounts, stories and poems all linked to the seaside and use non-fiction texts to research. In maths we will concentrate on number skills, recapping number bonds, more and less than symbols, money and much more.
This topic will give us opportunities to study science – sorting animals, research food chains and conduct investigations. We will also study Geography and compare Rawmarsh to Cleethorpes and study the physical and human features of both.
Year Two – Mess, Muck and Mixtures (Autumn 2 Topic)
This half term our topic is 'Mess, Muck and Mixtures'. We started the topic with a Messy afternoon, where the children investigated different materials such as shaving foam, sand, talcum powder, jelly and used thesaurus to find interesting adjectives to describe them. We also used different techniques to create pieces of art, which included ink blowing and bubble art.
Our literacy focus this half term is surrounding 'George's Marvellous Medicine' by Roald Dahl. We will be learning all about the characters from the story and creating Character Profiles. The children in Class 6 really enjoyed sharing their Roald Dahl books from McDonalds last half term, so we are hoping they will be excited about their upcoming learning.
Our Role Play area takes on a Pizza Parlour theme, where children can create different pizzas and generally make a mess!! This will also include writing opportunities of menus, orders etc and numeracy opportunities of adding up bills, paying with money, giving change etc.
Year Two – Towers, Tunnels and Turrets (Autumn 1 Topic)
This half term our topic is 'Towers, Tunnels and Turrets', where we will be learning all about Castles, Towers and other landmarks from across the World. Year 2 children have been using map skills to learn about the World around them, by sharing maps, globes and atlases and finding different locations.
We recently visited Conisbrough Castle, where we climbed 'The Keep' and learned all about the history of Conisbrough Castle. Did you know it has a Royal connection?? Do you know how old it is? I'm sure a Year 2 child can answer these questions for you. We all took part in a Drama Workshop at the Castle, where some children dressed up as characters that worked or lived in the Castle 850 years ago. The children made a real-life timeline to show how old the castle is.
We are looking forward to making 3D castles using a variety of media including clay, paper, sugar cubes etc. We will also be using ICT to research tunnelling animals and their habitats. In a few weeks time, we will be reading 'Rapunzel' and looking at the common features of fairytale stories.